New Chamber Scholarship Program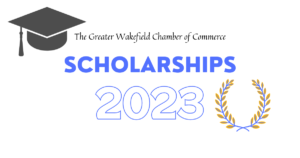 We have committed to $4,500 in scholarships for residents of the communities we serve (The Villages of Wakefield, Brookfield, Milton, Middleton, and Acton and Newfield, Maine) to help ease the financial burden of continuing education.
In 2023, we are offering three scholarships, each in the amount of  $1,500, to help pay for continuing education expenses at a college or university, 2-year associates degree program or technical school or a private high school or vocational school. We also will consider applications in support of other continuing education opportunities.
Our scholarship application program will be open from February 15, 2023 through March 15, 2023. Awards will be announced at the Chamber's Annual Meeting to be held in the Spring of 2023.
Send your name, address, and contact information to the Chamber along with 
→A 300-to-500-word essay – "Why Choose Me?"
→One letter of recommendation from a teacher, coach, guidance counselor or other equivalent,
→An available list of any honors, awards, academic activities, volunteer work
→A letter of acceptance from an educational institution which you've applied to (or a copy of a tuition invoice)
Everything you've done up to now has been for your next move; furthering your education. We would like to help support you in that endeavor.  Award recipients will be chosen by the Greater Wakefield Chamber of Commerce Board of Directors.
Please mail your submissions to;
Scholarship Program
Greater Wakefield Chamber of Commerce
PO Box 111
Wakefield, NH 03872
Or email your submission to the Chamber at info@greaterwakefieldchamber.org by March 15, 2023.
Each selected applicant will be notified by a member of the Chamber Board and invited to the Chamber's Annual Meeting in the Spring of 2023 to receive their award.