Greetings, Wakefield! The final voting for both Citizen of the Year and Business of the year is now closed. Thank you everyone who participated and voted for Citizen and Business of the Year 2019! A huge CONGRATULATIONS to the following:
Citizen of the Year: Larry Lavertue
Devotedly dedicated to his hometown, many of you will know this year's Citizen of the Year from your last trip to the Sanbornville Napa or from his almost three decades coaching local Babe Ruth, Cal Ripken, Softball, Soccer and Basketball teams.
Anyone that has ever held a clipboard for a youth sports team understands the level of dedication and hard work required just to coordinate families and field a team, let alone trying to win a few games in the process.

 

Larry Lavertue's Babe Ruth teams have won 18 championships over the years and most important to Larry, his players and their parents have become an extension of his own wonderful family.
Larry's love of sports and how it can be instrumental in teaching our youth to try their best, show respect and manage adversity is why even into adulthood, many of his former players still refer to him as "Coach".
There are very few of our neighbors that have had as significant an impact in the development of our young men and women and even fewer that have been so committed to the betterment of their community than Larry "Legend" Lavertue.
Business of the Year:  The New Deal General Store 
At the New Deal General Store in East Wakefield, you'll find most anything.
Robin Thayer and Sandy Lawrence took ownership on October 1, 2014. Now you'll find locally raised USDA pork and beef, fresh eggs, a farm cart thru summer, seedlings, plants, flowers and veggies, the coldest diverse ever-changing selection of craft beers, groceries, gas and diesel – WEX cards accepted. You can visit the tackle shop, purchase your fish and game license, register your ATV or snowmobile and buy some live bait. You can even book a guided fishing trip in a local pond, lake or salt water. If you haven't visited please stop in to say hi.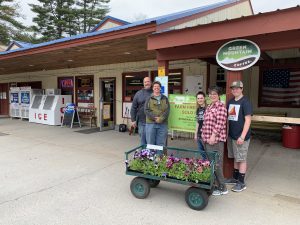 The New Deal Team – Paul, Robin, Ananda, Sandy and Cooper